How to play the game "Business Games "?
Think you've got a great mind for business? If you're a budding entrepreneur with loads of big ideas, we have loads of great challenges waiting for you in our girls' games! In this online management game you've decided to start your own business; it's a big risk, but if you work hard you know it'll be worth it! Think you can meet and beat your targets and keep your customers happy? Give it a go in this business game for girls! Read more
Seeing as you're the sort of girl who likes chatting and gossiping, you've decided to open a cafe where girls and boys can hang out and have a bit to eat. If you've played waitress games before, you'll know that working in a cafe can be tough at times! Nothing a girls' games pro like you can't handle though: just follow the instructions and serve your customers as quickly as you can, and your business is sure to be a great success - good luck!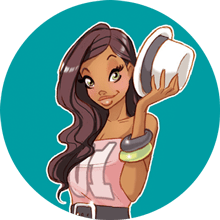 You're clearly loving Business Games - you should check out my pick of the best management games!