How to play the game "Barbie's Haircut Game"?
Have you ever wondered what Barbie would look like with a shaved head? Or multicoloured highlights? How about with hair long on one side and short on the other? If your mom won't let you anywhere near your real Barbie doll with a pair of scissors, this is the free girls' game for you! Barbie is having a dilemma in this celebrity game for girls. She is bored of looking like everyone else and really wants to shock her friends and family with a brand new look. Do you ever feel like doing this yourself sometimes? Barbie knows you understand her style urges, so she's asked you to come and give her a brand new look in this celebrity game for girls! Read more
In this girls' free Barbie game; pick up the scissors, hair-dryer, razor...wait what? A razor!? Barbie's really not holding back is she!? It's up to you how different you want to make Barbie look. You can turn her into an even girlier girl, or maybe even a punk rock chick! Play around with different styles and check out Barbie's expression. If she looks angry, it's probably best to put the scissors and hair dye down. Would you like to be a hairdresser for real one day? Tell us all about it in the comments!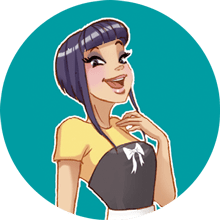 Barbie's Haircut is one of my favorites! We clearly have awesome taste! Come and play more of my fave celebrity games!