How to play the game "Banana Split Cake Game"?
Marie loves to bake cakes, it's her passion! She knows that you can make cake flavors with pretty much any food, and if you make them as delicious as possible, you can make a lot of money doing it! Marie has a wild imagination when it comes to baking. In this free cooking game, she has decided to make a surprise cake for her friend's birthday. She knows her friend loves banana split, but she thinks that's boring! Hmm, what food could she bake instead? Why, a banana split cake of course! Read more
Join Marie in the kitchen in this girls' cake game and throw yourself into this sweet and simple banana dessert recipe. Peel and chop the bananas and then prepare the cake mixture using ingredients like milk, flour and vanilla extract. Marie says the key to baking the perfect cake mix is all in how you, er, mix it! You'll need to bake each half of the cake in the oven. Then comes the fun part...cake decoration! Decorate with frosting, bananas and little cute cherries. Mmmm! Did you enjoy this free cooking game, girls? We went bananas for it!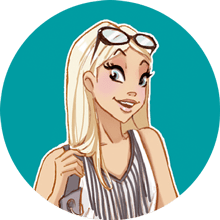 If you enjoyed Banana Split Cake , you'll love these cooking games just like me!