How to play the game "Baker Game "?
Hot stuff coming through!! The head baker in this cooking game has gone on vacation for a week, and guess who he's asked to take over his bakery? You! With all your girls' games and baking games experience, he's sure you'll have no trouble following his recipes and preparing donuts, cookies, pies and many other tasty cakes for his clients. Roll up your sleeves and get to work! Read more
We hope you're hungry for a challenge, because this has got to be one of the most complicated cooking games around! In the first levels, you'll need to bake bread and chocolate donuts by mixing the right ingredients. Click 'menu' to see the recipes, then 'done' to serve them to your customers. Once they've gobbled up their snack, they'll give you some money - make sure you click on the coins to save your earnings! How many levels can you complete in this cake game for girls? Leave us a comment to tell us!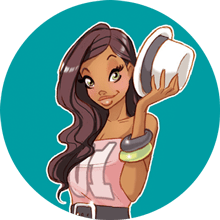 You're clearly loving Baker Game - you should check out my pick of the best cooking games!