How to play the game "Adele Makeover Game"?
The fabulous British singer Adele is getting ready to hit the stage in this girls' makeover game! Tonight Adele is going to perform a concert in a town near you, but there's a problem: her make up artist has missed her flight and is stuck in London! Adele needs you to step in and help her get ready before she can wow the crowds with her amazing voice. Use all your beautician talents in this new star game to make Adele look stunning, with foundation, lipstick, eyeshadow and anything else you need. Just click the color you like, then click Adele's face to apply it. With your help she'll look dazzling as she sings hits like 'Someone Like You' to her adoring fans! Read more
Do you dream of being a famous singer like Adele? It would be amazing to travel the world and perform to thousands of people, but a lot of pressure too! In girls' dress up games and makeover games like this one, you can have fun with your favorite popstars and movie stars all day long. Hope you don't get starstruck!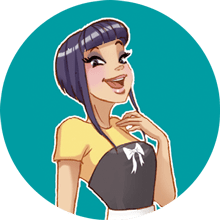 Adele Makeover Game is one of my favorites! We clearly have awesome taste! Come and play more of my fave makeover games!