How to play the game "Ranch Cleaning Game"?
Early mornings, long days, messy work... being a farmer is tough! In this animals game you'll meet our friend Farmer Mick, who runs a ranch with lots of horses and other animals. Mick really loves his job, but everyone needs a little vacation now and again. He's taken a few days off to go to New York City and see some Broadway shows, and guess who he's left in charge of his beloved farm in this girls' game? That's right, you! Hope you're in the mood for spring cleaning, because you'll need to tidy up a whole farm in this girls' game. Mick was in a bit of a rush to catch his flight and he didn't have time to sort out the ranch before he left... it's a complete shambles! Read more
You'll start this girls' game by cleaning up the cows' field; next you'll tidy up the stables for the horses; and finally you'll have to sort out the goats' pen. Make sure all the animals are tucked safely into their enclosures so they don't run away. You'll have your work cut out for you in this farm game! If you love farm animals or playing Farmville, you'll have great fun playing with animals and tidying up the ranch in this management game.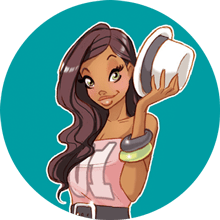 You're clearly loving Ranch Cleaning - you should check out my pick of the best farm games!