How to play the game "Popstar Slacking Game"?
Sarah's actually working hard for once! Ha, yeah right. It's always been her dream to be a super famous popstar, and she has finally been offered a record deal...how exciting! The problem is, no matter how many opportunities this young girl is given, she just cannot concentrate on one thing and stop herself from slacking! In this free work game for girls, you need to help Sarah go about her usual distractions without getting caught by the big-cheese record producer. Let's do this! Read more
So, Sarah is supposed to be singing sweetly to impress everyone in the recording studio, but, she has other things on her mind too. When the record producer isn't looking, help Sarah to try out some dance moves, practise her signature, text her friends, apply her lipstick and more. It's such a shame that Sarah is so easily distracted in these free girls' games, as she could be the next Britney Spears if she put some hard work in! Do you think you could be a better popstar than Sarah? Share what you think in the comments!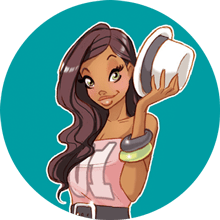 You're clearly loving Popstar Slacking - you should check out my pick of the best slacking games!