How to play the game "Pirate Puzzle Game"?
Ahoy thar, matey! Are you ready to go on an adventure with pirates in this girls' game? Captain Rodrigo and his crew have been sailing the seven seas, searching for treasure and getting into scrapes. Now they've come across a sea of colored bubbles so thick that their ship can't sail through it! Can you help them pop the bubbles in this free puzzle game? Read more
Use the arrow to direct each bubble towards a group of the same color. When you match three or more, they'll pop and you'll win some points! More bubbles will move down the screen as the puzzle game progresses, so aim carefully and try to clear as many as you can. Want to play more puzzle games or pirate girl games? You'll find loads of surprises in our fun games section!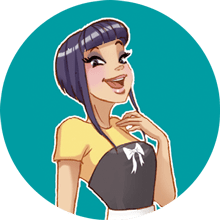 Pirate Puzzle Game is one of my favorites! We clearly have awesome taste! Come and play more of my fave puzzle games!