How to play the game "Beautiful Back to School Makeover Game"?
The summer holidays are so fun. The only problem? They're too short! All too soon it's time to pack your bags, sharpen those pencils and get ready to go back to work. But don't be sad, because this school is throwing a big party to welcome all the students back to school!
This fall-themed party is sure to be so much fun. All you need to do is choose an outfit! Get ready to wow all your friends (and maybe make some new ones!) with the perfect dress and maybe even a new hairstyle to match. Pick the perfect makeup look and carefully apply mascara and lipstick until you're happy. Then choose the most fashionable clothes - you'll be the belle of the (school) ball!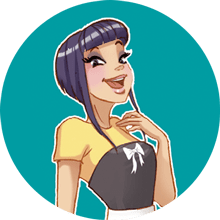 Beautiful Back to School Makeover is one of my favorites! We clearly have awesome taste! Come and play more of my fave school games!