How to play the game "Sky Whale Game"?
Kenzie and Babe, two passionate girls who got lucky with their school project, have become masters of mobile games. Their game became a top hit all over the world, but not many people know what their first version of Sky Whale was like. Well, in this game, you can find out! Tap to make the whale (sorry, not a narwhal yet) fly across the skies. Do you think this Sky Whale game is as fun as the one that made them famous in Game Shakers?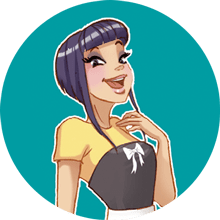 Sky Whale is one of my favorites! We clearly have awesome taste! Come and play more of my fave fun games!