How to play the game "Photo with the Three Wise Men Game"?
Hola chicas! Do you know any words in Spanish? With this Christmas game, you'll get a chance to practise them! In this fun photo game you get to create a cartoon picture of yourself with some of the most important characters in the Nativity story: the Three Wise Men. The Three Wise Men travelled miles and miles across the desert on their camels to see the Baby Jesus, following a shining star all the way to Bethlehem. You can pretend you were there too in this girls' game: create a colorful picture to print off and show your friends, and learn some new words as the Three Wise Men test your Spanish skills! Read more
First, choose where you want to take the photo: the desert, Bethlehem, or the mountains. Tell the Three Wise Men whether you are a boy or a girl, then type your name in the white box. Next, you need to choose whether your hair is blonde, brown, black or red, and pick your hair style: short, long, in one plait or two. After that, choose your sense of humor, your favorite hobby, and your favorite color. Finally, you have to tell the Three Wise Men how good you've been this year so they know how many Christmas presents to give you! Have you been good, bad or average? Be honest! If you find some Spanish words you don't understand, look them up in a dictionary or ask a friend for help. Happy holidays, and Feliz Navidad!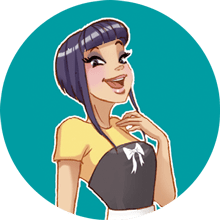 Photo with the Three Wise Men is one of my favorites! We clearly have awesome taste! Come and play more of my fave free games!