How to play the game "Woodland Bubble Shooter Game"?
There's not much to do when you're a squirrel, other than sleeping and finding nuts to snack on. Until Simon discovered this crazy bubble shooter! He's been playing all day, blasting bubbles and matching symbols to explode the never-ending bubbles in a shower of stars. It looks so fun, why don't you join in?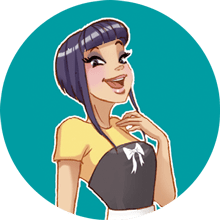 Woodland Bubble Shooter is one of my favorites! We clearly have awesome taste! Come and play more of my fave bubble shooter games!