How to play the game "Making Falafel Game"?
Mmmm... this girls' recipe game looks good enough to eat! If you like trying out exotic dishes, you'll love this new cooking game. Falafel is a delicious dish that originally came from Egypt, but can now be found in lots of countries all over the world. It's a deep-fried ball made of chick peas, usually served in a pita and topped with salad, sauces or vegetables. In this new girls' game, young chef Sara is having some vegetarian friends over for dinner and wants to cook something really tasty for them. Grab your apron and help her prepare this delicious Middle Eastern meal! Read more
To play this world cooking game, just click on the items you see on the right-hand side of the screen and drag them to the place indicated. You'll have to complete three levels before you finally get to serve the falafel and finish the game. Each level is timed, so watch the clock and chop as fast as you can! If you want to try making this meal at home with a parent or friend, you can also find the recipe on the first page. Have fun!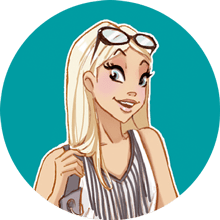 If you enjoyed Making Falafel, you'll love these cooking games just like me!