How to play the game "Pet Dragon Care Game"?
What's your ultimate dream pet? A tiger, a panda, maybe a unicorn?! In this girls' game you'll get to play with the most magical animal of all - a dragon! With his sharp claws and pointed fangs, this mythical creature might look pretty scary... but like all pets he needs to be fed, washed, played with and given lots of care and attention. In this game you'll meet Zhang Lee May, who comes from a long line of dragon trainers. She'll teach your how to train your dragon and look after him properly so he's happy and healthy. Just follow her instructions and you'll be a dragon expert in no time! Read more
Your first task is to feed your dragon by helping him to find magic apples, but watch out for the black clouds! Next, you'll have to give him a bath and play games with him to keep him happy. Zhang Lee May will be really impressed if you can complete all the tasks before the time runs out!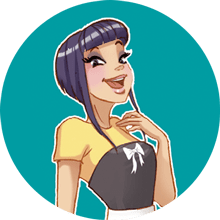 Pet Dragon Care is one of my favorites! We clearly have awesome taste! Come and play more of my fave free games!