How to play the game "Create Your Perfect Boy Game"?
Every girl dreams of her Prince Charming. The boy who will fall in love with her who is really gorgeous and beautiful and looks just perfect. Read more
Well in this special game for girls, you girls can actually create your dream boyfriend!
When you press "START" you'll see a normal looking boy. Now, you can change anything about him...his face shape, his eye colour, his eye shape, the type of nose he has, how big his muscles are, what kind of clothes he wears, his hair style and colour... the list goes on and on and on!
When you're finished with all the choices down the side, click on BG colour at the top to change the colour behind your new hot model! And you can also click on "SHOP" to pick out some great accessories for him!
You'll love creating your own perfect boy with this great game for girls!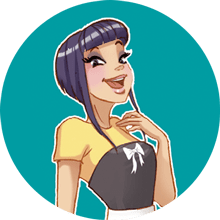 Create Your Perfect Boy is one of my favorites! We clearly have awesome taste! Come and play more of my fave makeover games!