How to play the game "Virtual Hotel Manager Game"?
Do you dream of traveling the world, dining in the finest restaurants and staying in the most luxurious hotels? In this hotel game, you'll be staying in glamorous hotels in four different countries: Scotland, Egypt, Monaco and Russia. But before you get to dive into the pool or relax in the spa, you'll need to help out your friend Jane with some important business! Jane is a young entrepreneur who owns hotels all over the globe. She knows you're a hard worker so she's given you a job running her hotels in this management game. Read more
To start, click the customers, place them in an empty room then select the service they asked for. They might want to have a drink or use the telephone, or they might ask for their rooms to be cleaned - they're a demanding bunch! Make sure you fulfil all their requests as quickly as you can or they'll get angry and walk out, losing you money. Jane will give you a target to reach in each level, and you'll have to start over if you don't meet it. After you've completed a level, you'll need to go shopping to buy new items for your hotel. There are 10 levels to complete in each country, so only the most hard-working girls will reach the end of this management game!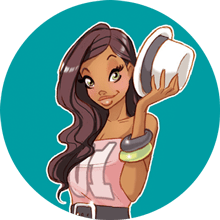 You're clearly loving Virtual Hotel Manager - you should check out my pick of the best management games!