How to play the game "Sweet Potato Pie Recipe Game"?
Do you girls like sweet potato pie? We bet you do, and if not then it's because you haven't tried our extra special recipe! Just like the regular potato, sweet potatoes are super delicious and also very good for you. In this cooking game we'll be learning how to bake a sweet potato pie for Thanksgiving. You just need to follow our head chef Lola's simple instructions; she'll tell you what to do to turn her secret recipe into a delicious treat that your Thanksgiving guest will just love. It's easy as pie! Read more
The first step is to spread olive oil over the sweet potatoes and put them in the oven. Next, follow the instructions to bake the pie; Lola will taste your cake and give you a score, so work fast to impress her! Are you celebrating Thanksgiving with your family or friends this year? Happy holidays!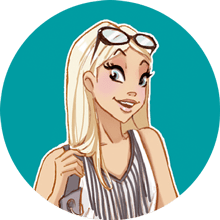 If you enjoyed Sweet Potato Pie Recipe, you'll love these cooking games just like me!