How to play the game "Slushy Drink Game"?
Cold, refreshing and very sweet, Slushies (or Slush Puppies) are a tempting treat indeed. These sugary drinks are made with ice, sugar and different flavorings and they come in tons of different colors: red, blue, orange, yellow, green, even rainbow colors. If you're a fan of 'Glee', you might have seen the poor kids from Glee club get a Slushies thrown in their faces now and again! In this summer cooking game, we're going to mix up the finest Slushee you've ever seen and serve it to our friend Anna as she relaxes on the beach. Summer is heating up in these girls' games, so she'll be very grateful for an icy refreshing drink to cool her down. Read more
This decorating game for girls lets you choose the colors of your Slushy then decorate it with whipped cream, ice cream, fruit, candies, sprinkles and straws. Just like all of our girls' games, you can decorate your drink any way you like; there are loads of different options for you to choose from, so having fun trying out lots of colorful combinations. Once you've finished, click the camera icon to see Anna posing with her delicious slush drink while she lounges in the sun. This multicolored looks almost as good as it tastes! What's your favorite summer snack? If you're in the mood for ice cream, sorbet or maybe a fruit smoothie, make sure you check out the rest of our cooking games and food decorating games - there are tons of sweet treats for you to sample here!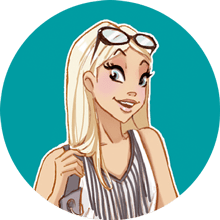 If you enjoyed Slushy Drink Game, you'll love these cooking games just like me!