How to play the game "Online Sports Games"?
If you want to practise some winter sports this Christmas, we have the perfect game for you! This game stars Nicola, a champion snowboarder. She lives in a chalet in the French Alps and spends her days training for snowboarding competitions all over the world. In this fun girls' racing game, you have to direct her using the arrow keys as she zooms down the mountain at top speed! You need to pass between the pairs of rocks and trees, or 5 seconds will be added on to your time. Make sure you don't crash into anything and try to reach the finishing line as fast as you can! Read more
This is a difficult slopes with lots of jumps, but nothing Nicola can't handle! Use the space bar and arrow keys to make her do some cool tricks: the left arrow lets you do a tail grab, and with the right you can perform a 360 turn. Just like skiing, snowboarding is difficult and requires great skill. It takes years to become a pro like Nicola. Luckily we have lots of fun snow sports games which are much easier - you'll be a lot warmer, too! With loads of girls' games and winter sports games to keep you busy, MyGames4Girls.com is the perfect place to spend the Christmas holidays. Have fun!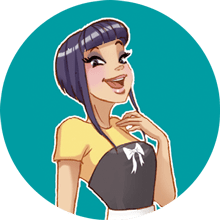 Online Sports Games is one of my favorites! We clearly have awesome taste! Come and play more of my fave free games!