How to play the game "Hotel Puzzle Game"?
Do you like staying in hotels? Hotels can be one of the best parts of traveling or going on vacation, as long as they're nice and clean! In this free puzzle game, you need to find lots of different objects scattered around a rather messy hotel room. You don't have long to find them, because your taxi to the airport leaves in five minutes! Try to find all ten items before the clock runs out in this girls' game so you can pack your bags and catch your plane on time. Read more
Carefully read the items listed at the top of the screen, then try to find them in the hotel room. Make sure you don't click an item that isn't on the list, because you'll lose a whole 20 seconds off the clock. Hotel games like this one can give you a real holiday feeling, even if you're still at home! Keep and eye on the clock and play as fast as you can in this free hidden object game - you don't want to miss your flight home!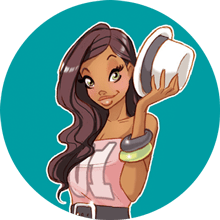 You're clearly loving Hotel Puzzle Game - you should check out my pick of the best hotel games!