How to play the game "Hotel Cleaning Game"?
Hotel Magenta has been left in a shambles! Last night's guests have only just checked out and there's another group of ten girls arriving in less than an hour. Unfortunately, most of the hotel's staff is off sick today, so it's up to Amy, the fastest and most hard-working maid, to get the bedrooms back in order before the next guests check in. Cleaning and tidying might not be your favorite things to do at home, but you're sure to like this free girls' game! If you can help Amy get everything back in order before the guests arrive, her manager might even give her a promotion! Read more
Help Amy play this free girls' game by dragging old cans or pieces of food into the trash can, hanging clothes on the hat stand and putting the shoes back in their box. Once you've finished the bedroom, you'll need to tidy the reception area and the restaurant, too. It's a big job, so Amy will be really grateful for your help. If you enjoy this free girl game, why not try some others? Just use the search bar to find hotel games, cleaning games or anything else you fancy!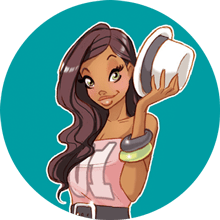 You're clearly loving Hotel Cleaning Game - you should check out my pick of the best hotel games!