How to play the game "High School Kiss Game"?
Brittany and Patrick are the coolest boy and girl in school: Patrick is the star quarterback on the football team, and Brittany is head cheerleader. You'd never guess it, but they're actually really shy; this boy and girl have liked each other for ages now, but they haven't worked up the courage to kiss yet! Can you help them out with this high school kissing game? Read more
You'll find tons of kissing games on this site, but this one is a little different: to let our timid teens kiss, you'll have to drag the heart along the path you see on screen. Careful, though: your time is limited, and if you hit the sides of the path you'll have to start again! With your help these high school sweethearts will soon be well on their way to finding true love! Good luck, and keep browsing our girls' games for love testers, kissing games and lots more romantic fun.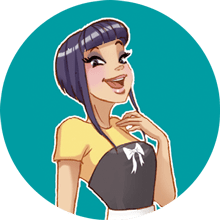 High School Kiss Game is one of my favorites! We clearly have awesome taste! Come and play more of my fave school games!