How to play the game "Fun BBQ Recipe Game"?
Today it's your best friend Julie's birthday party, woop woop! Her family have decided to organize a huge barbecue by the local lake, it's so hot outside, why not! You've been invited along and you're so excited! To be polite, your mom says you'll need to do a little cooking. Boring right? Wrong! This is a super delicious recipe that you'll love making, and we bet Julie and her family will love it too! In this free cooking game for girls, we'll be cooking delicious veal chops on a tasty tomato salad bed. Mmm! Read more
This is such a fun recipe to follow, you've not seen anything like it in any other cooking game! Begin by preparing the vegetables for the healthy salad. Chop the tomatoes and olives. Do you know what one of the most important parts of a good salad is? The seasoning of course! Add salt, pepper, garlic and a dash of olive oil. Then it's time to cook the meat. Don't forget to turn it half way through! Everything looks so tasty in this food game, we want to eat it! Julie's family loved the food you made so much, they want you to relax and enjoy the party. Now, where did you put your swimsuit?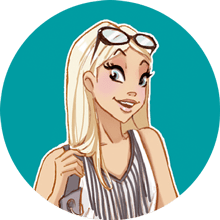 If you enjoyed Fun BBQ Recipe , you'll love these cooking games just like me!