Waitress in a Cafe Game
Dress up this waitress in a cute Hawaiian style.
The game will be available in a few seconds...
Summer has just arrived in this girls' game! Callie is spending her summer vacation in Hawaii, surfing, dancing at special parties known as 'luaus', and working as a waitress in a Tiki Cafe. Callie is pretty, friendly and loves singing and playing the ukulele, so she's very popular with her customers. It can be pretty tough working long hours under the hot summer sun, so Callie needs to wear light clothes like skirts or mini dresses. You need to find her an outfit that's comfortable as well as cute - bet that's no problem for a fashion expert like you!
Click through all the items available in this Hawaiian dress up game until you find the ones she likes best, then give her a little makeover to make her extra pretty. Don't forget that she's getting ready for work, though - she'll need an apron and a tray so she can serve her customers. Have fun with this dress up game, and make sure you check out the rest of our girls' games once you're finished. You can dress up models from all over the world on MyGames4Girls.com!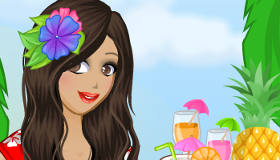 Waitress in a Cafe Game
-
111
votes
Waitress in a Cafe Game comments from girls: