How to play the game "Lee's Japanese Restaurant Game"?
Hi there girls. It's Lee here, and for another of our waitress games I've just opened my very own Japanese restaurant, serving all of my favourite foods! But it's a hard job to do everything by myself and I need you to come and help me to serve all the customers, and to make sure everyone gets the food and drink that they asked for! Read more
Each day there will be a new target that you'll have to reach to pass onto the next level, and be careful because my customers will get impatient if they don't get their orders quickly. Me, Lea and Lilou all love it when you come and play our games, so why not try out our others now?! Love, Lee xxxxxxx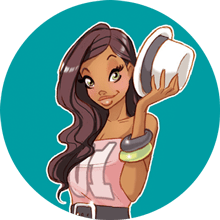 You're clearly loving Lee's Japanese Restaurant Game - you should check out my pick of the best waitress games!