How to play the game "Design Your Own Donut Game"?
Uh oh, bad news. Your best friend's parents have decided to move the whole family to a new city without any warning. The horror! Although you know you can stay in touch with your BFF on HiDolls and on the phone, you know that things aren't going to be quite the same. You used to do everything together in class, and now she has to start life at a new school where she doesn't know anyone! Do you think you can do something nice to cheer her up in this donut decorating game for girls? Read more
Your friends is crazy about donuts, so you've decided to make one just for her. It's a little tradition that you share: the donut of friendship. Sometimes food that is home cooked is the perfect personal gift. Select the perfect flavor of donut, then add up to four decorative layers in this girls' cooking game. Add a final touch by decorating the plate. If you love pastries and cakes, play this food game for free then share your donut cooking designs with your friends! Do you prefer normal donuts, or donuts filled with jam? Strawberry, chocolate or vanilla? Donut hesitate, tell us now!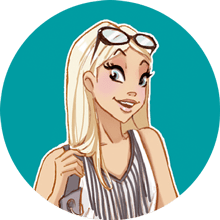 If you enjoyed Design Your Own Donut, you'll love these design games just like me!