How to play the game "Cooking Game with 11-Year-Old Girl "?
Summer has arrived in girls' games, and what better excuse to treat ourselves to a tasty ice cream or two?! In these cooking games you'll meet our friend Lizzie, who turns 11 today. Seeing as it's a sunny day she's decided to have a birthday party in her garden, and this nice little girl is making ice cream sandwiches to serve to her friends and family. Can you help her out in this game with an eleven-year-old girl? Read more
Whether you're eleven or 111, our cooking games are loads of fun and really easy! Help Lizzie make her ice cream sandwiches by click the icons on the screen to choose the type of cookies, ice cream, candies and fruits you want to use. There are dozens of different ice cream sandwiches for you to choose from in this free cooking game, so have fun and make sure Lizzie's 11th birthday is one to remember!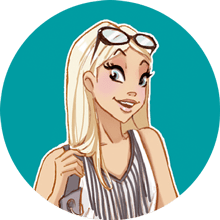 If you enjoyed Cooking Game with 11-Year-Old Girl , you'll love these cooking games just like me!