How to play the game "Color Puzzle Game"?
'Red and yellow and green and blue, orange and purple and pink...' You'll see all the colors of the rainbow in this fun new girls' game for girls! Bomboozle is an easy puzzle game where you have to match colors to win points. You'll see a grid of colored shapes with cute little faces. You have to match three or more of the same color to make them disappear. The more blocks you connect, the more points you'll win! Read more
You can draw straight across or downwards to connect the blocks (but not diagonally!) and the rainbow blocks can be used with any color. Each time you match six or more blocks in a row, you'll be given a bomb to blow up part of the board - save them in case you get stuck! If you love arcade games like Tetris, you're sure to love this simple but addictive logic game. You can choose a timed game for a challenge, or an infinite one which will let you play as long as you want - but careful, you might get hooked!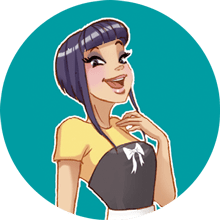 Color Puzzle Game is one of my favorites! We clearly have awesome taste! Come and play more of my fave puzzle games!