How to play the game "Candy Personality Quiz Game"?
Our candy expert, Lea, says that there is nothing like a bag of your favorite candy to make your day that little bit better. Do you agree? What, you don't have a favorite candy!? Hmm, we can fix that. Tell us a little more about yourself in this quiz and you'll find out which sweet best reflects your personality. Chocolate, lollipops, gummy sweets...which one will you be? Lilou and Lee have already discovered theirs!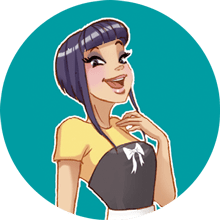 Candy Personality Quiz is one of my favorites! We clearly have awesome taste! Come and play more of my fave quiz games!