How to play the game "Baby World for Girls Game"?
Have you ever heard tales of storks delivering babies? As the story goes, these skinny birds would fly through the sky carrying little babies wrapped in cloth in their bills, then drop them down chimneys in the homes of couples hoping for a child. In this baby game for girls, you'll get to take a look at the factory where the storks make and deliver the babies! If you've played baby games before you'll know that caring for little children can be hard work, so the storks will be grateful for your help! Read more
Try to create as many babies as you can to earn lots of points in this online management game. If you love looking after and playing with babies and little kids, there are lots more girls' games for you to enjoy right here. Try being a great babysitter in work games or maybe working as a teacher in a kindergarten or nursery school. Have fun with this free management game, and remember to leave us a comment to tell us how you get on!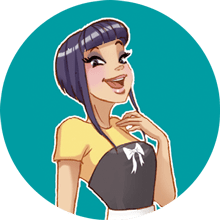 Baby World for Girls is one of my favorites! We clearly have awesome taste! Come and play more of my fave free games!