How to play the game "Raven Queen's Beauty Secrets Game"?
Raven is not happy with Ever After High. All of her teachers are determined for her to fulfill her destiny. But, she doesn't want to be evil! And she certainly doesn't want to go around feeding Apple White poisoned apples. So, she has decided to rebel. Not only will she choose her own destiny, but she will choose her own style! It's time for a celebrity makeover. Read more
Press 'play' to begin Raven's transformation. First, look in her closet to find all the objects you need. Then when the product appears at the bottom, you can start applying it. Hurry up though, the clock is ticking! At the end of each stage, click 'next' to go to the next level. You can have lots of fun trying out different hair and make up colours on this Ever After High student. Do you think we should see what she looks like as a rock chick? Or do you think she'd look better in one of these classic dresses? Hmm, what will her style destiny be..?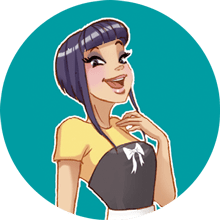 Raven Queen's Beauty Secrets is one of my favorites! We clearly have awesome taste! Come and play more of my fave makeover games!