How to play the game "Princess Memory Game"?
Once upon a time, in a far-off land, a fairytale princess was getting ready for the Grand Ball... Think you've heard tons of stories like this one in our girls' games? Think again! The young princess in this puzzle game for girls has been the victim of an evil curse: a wicked witch has cast a memory-loss spell on her! Now the poor girl has no idea where she put her dress for the ball, her jewelry, her tiara and tons of other objects. The only way to break the spell is to match the pairs of cards in this free memory game! Read more
Do you have a memory like an elephant? If so, you're just the person to help the princess in this free puzzle game! Click each of the cards to see the lost items in this memory game, and try to match them into pairs as quickly as possible in order to complete all 3 levels and foil the nasty witch's plans. Thanks to your skills, this pretty princess will soon be able to hop in her carriage and ride off to meet her Prince Charming... and we bet they'll live happily ever after!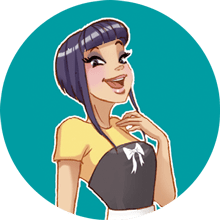 Princess Memory Game is one of my favorites! We clearly have awesome taste! Come and play more of my fave free games!