How to play the game "Pacman Maze Game"?
Do you like arcade games? Here's a classic that is still as popular today as it was when it was first released over thirty years ago! Pac-Man is a little yellow man who races around mazes eating dots. In this version of the retro arcade game, Pac-Man has to create a wall to close in the ghosts. Move Pac-Man around the grid to draw squares or rectangles, which will be filled in with bricks. Make sure the ghosts don't eat him or bump into the wall before it's complete, or he'll lose a life! Read more
Try to grab the special icons to give Pac-Man extra powers. The ice cream will freeze the ghosts, the cherries will make you move faster, the bananas will make the ghosts move more slowly, and the lemon will allow you to eat them! Move fast to move up the levels in this free girls' game, and help Pac-Man escape from the ghosts unharmed!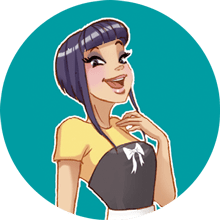 Pacman Maze Game is one of my favorites! We clearly have awesome taste! Come and play more of my fave free games!