How to play the game "Online Princess Games"?
Do you girls love fairy tales? Then you'll surely know the Cinderella story! Cinderella was a poor orphan who lived with her evil stepmother and her two ugly stepsisters until she met her Fairy Godmother, who kindly turned her rags into a beautiful dress, a pumpkin into a carriage, and swept her off to the ball to meet her Prince Charming! In this maze game for girls, you need to help pretty Cinderella make her way to the Prince's castle, picking up glass slippers as she goes. Read more
To play this girls' game, just use the arrows on your keyboard to direct Cinderella around the maze. Look out for special items such as looking glasses, pumpkins and even the Fairy Godmother herself, and try to catch them to win extra points. If you love fairy tales and princess stories like Sleeping Beauty or Snow White, make sure you check out the rest of the girls' games on the site. There are loads of magical games for girls like you!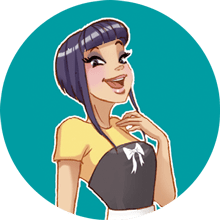 Online Princess Games is one of my favorites! We clearly have awesome taste! Come and play more of my fave free games!