How to play the game "Ninja Knife Throw Game"?
Have you ever tried knife throwing before? It's very dangerous! That's why you should play it safely in this fun mobile game! Tina is a ninja and she's had a rough day, so she wants to practice her knife throwing skills and let off some steam. Why don't you join in? See how many shots it takes you to destroy the log and see if you can hit the apples for bonus points!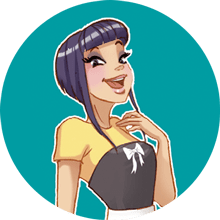 Ninja Knife Throw is one of my favorites! We clearly have awesome taste! Come and play more of my fave fun games!