How to play the game "Hidden Objects School Adventure Game"?
Are you always losing your pens, pencils and erasers? In this game you'll meet Joy, a little girl with her head in the clouds who is always forgetting her things! Today she has a test, and her teacher has asked her to find all the contents of her pencil case before they start. Can you guide her through the hallways and classrooms and help her find her stuff in this school game for girls? Read more
Just use the arrows on your keyboard to head off on an adventure with the little girl in this school game. You'll have new objects such as pencils, sharpeners or erasers to find in each level, and you'll also need to watch out for the cats and other enemies lurking in the school halls - press space to throw books at them! Leave a comment to tell us what you think of this school game when you're done, and check back soon for more great girls' games!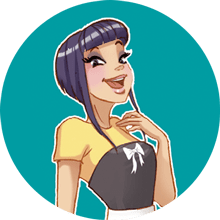 Hidden Objects School Adventure is one of my favorites! We clearly have awesome taste! Come and play more of my fave school games!