How to play the game "Family Party Game "?
Oh the stress! Diane has been excited for months and months about her upcoming birthday in this free girls' game, and finally the day has arrived! Her parents promised she could have a big party at the house, so Diane's been jumping around happily, waiting for the party to begin. However....Diane's parents did forget to mention one tiny detail...her whole family has also been invited! D'oh! Read more
Diane loves her family, but she really wanted a day just for her and her friends! Her parents are not impressed by this, and have told Diane she needs to entertain her grandparents so that they do not fall asleep in this family management game for girls. They have travelled a long way to make the party after all. This girls' game is fun, as there are so many different things to do...serve food, throw firecrackers, text your friends and more. Diane's also a HiDolls fan, so help her update her status, but whatever you do...don't let her grandparents fall asleep, or the party will be over!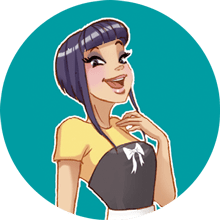 Family Party Game is one of my favorites! We clearly have awesome taste! Come and play more of my fave free games!