How to play the game "Family Fashion Rivals Game"?
Grr, families can be stressful. Lindsay and Tessa are two sisters who have taunted and teased each other forever, they're always fighting! Tessa is pretty, blonde and stylish, whereas Lindsay is the exact opposite! She loves dark colors and gothic styles. As they've gotten older, these sisters have become fully fledged fashion rivals. In this free fun game for girls, Lindsay wants to ruin Tessa's outfit for the upcoming dance. She's snuck into Tessa's room and is ready to destroy her wardrobe. Uh oh! Read more
Tessa is busy today, she has some studying to do with her books, and she's needs to phone a few of her friends. Lindsay knows this is the perfect opportunity to take apart Tessa's wardrobe, how sneaky! Lindsay wants to show her sister that life isn't all about fashion and style, so will you help her? Rummage through the wardrobe when Tessa has her back turned in this free game. Make sure Tessa doesn't catch you though, we don't want this to turn into an actual fight! If you manage to ruin Tessa's closet successfully, you'll move onto the next level. We hope these sisters will work things out one day! But for now, this is quite fun!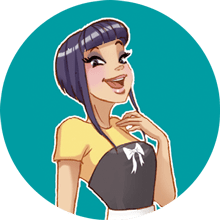 Family Fashion Rivals is one of my favorites! We clearly have awesome taste! Come and play more of my fave free games!