How to play the game "Dress Up a Mother-to-Be Game"?
Do you know any mothers-to-be? Maybe you've come across some in our girls' games! If your mom or maybe another lady in your family is having a baby, you'll know that the body changes loads during pregnancy. Today you'll meet Lucille, who is seven months pregnant with her first baby. She wants to treat herself to a new outfit, but she hasn't been shopping in ages and she has no idea what to buy! Can you take her shopping in this mom dress up game for girls? Read more
Lucille really can't wait to be a mom, but she must admit that she was much more up-to-date with fashion before she fell pregnant. She might have let herself go over the past few months, but we know that with your dress up games expertise you'll have no problem finding her a great new look! Do you think her baby will be a boy or a girl? Leave your guess below!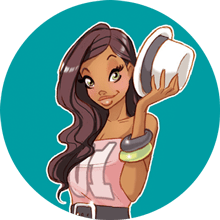 You're clearly loving Dress Up a Mother-to-Be - you should check out my pick of the best dress up games!