How to play the game "Coloring in the Bath Game"?
Meet Barbara, the twin sister of Barbie! We bet you thought it was Barbie in this game right? They do look super alike! Today, in this free coloring game, Barbara is looking after her niece, Shelly, because Barbie has gone to the hairdressers! The end of the day is near and Shelly had a lovely bubble bath. The only problem is, Shelly splashed so much that she deleted all the colors of the bathroom...oops! Read more
Luckily, you are here to save the day in this free family coloring game for girls. Help bring some color back into Barbara and Shelly's lives by painting them using the colors at the bottom of the screen. Paint Barbara, Shelly, the walls, the rubber duckie, the towels...paint everything! Do you like bathtime? Make sure you don't get into any bubble trouble!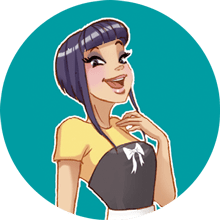 Coloring in the Bath is one of my favorites! We clearly have awesome taste! Come and play more of my fave coloring games!