How to play the game "Clean Up My Home Game"?
Gabriella lives with her husband and their two children, Stephanie and Joanna, in their beautiful home in San Diego. They're a very happy family, but not the tidiest of people... poor Gabriella spends half her time cleaning up the house! Today she's having guests over for dinner, and she needs to tidy her home before they arrive. Can you give her a hand in this girls' game? Read more
Roll up your sleeves, because you and Gabriella will have your work cut out for you in this free home game! Use the mop, broom and bucket to clean any spills or stains, and pick up all the garbage that the kids have left lying around the house. You'll also need to water the plants to keep them healthy and green. Why not try out some of the skills you learn about in these girls' games at home? We're sure your parents would appreciate a helping hand around the house!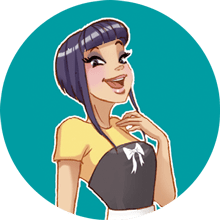 Clean Up My Home is one of my favorites! We clearly have awesome taste! Come and play more of my fave home games!