How to play the game "Cerise Hood's Chocolate Cupcakes Game"?
Girls, you must remember to never walk through the forest alone. Why? It is so dangerous! You must know the story of LIttle Red Riding Hood? Well, her daughter Cerise Hood, knows about all the danger her mom experienced when she was a little girl. She has her wits about her, so her mom has asked her to walk to her grandmother's house this afternoon with some cupcakes. The problem? All her Ever After High friends ate them all up! Oh dear… Read more
Before Cerise's mom gets angry, let's head to the kitchen and prepare some delicious chocolate cupcakes. Cerise knows the recipe off by heart, so just follow her lead. In this cooking game; you will use butter, chocolate chips, vanilla extract and cocoa powder. Take care to follow the recipe while Cerise uses her big eyes to see you better with, and big ears to hear you better! Mmm, we can't wait to sink our teeth into these tasty muffins...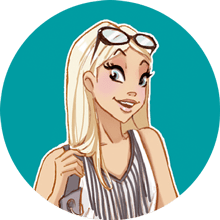 If you enjoyed Cerise Hood's Chocolate Cupcakes, you'll love these cupcake games just like me!