How to play the game "Bubble shooting in the Mountains Game"?
Guten tag! Come with us on a trip to Germany in this free bubble shooter game for girls. Have you heard the old German bubbleshooter folk tale? Long, long ago, a beautiful maiden named Christin lived at the top of a high mountain with her father. The day she turned eighteen, her father decided that it was time for her to leave him and get married. So, he asked all the young, handsome men in the town to come to the mountaintop to prove their love for Christin. How? By being excellent bubble shooter players of course! Read more
The two men shooting for Christin's love are called Hans and Franz. See how fast you can play this girls' bubble shooter game and how high a score you can get. The higher your score, the more likely Christin is to fall head over heels in love with you! Do you like free bubble shooting games like these? There are loads more on the site. Don't forget to tell us your score when you're done girls!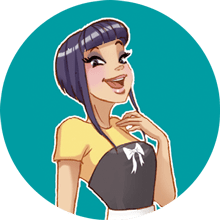 Bubble shooting in the Mountains is one of my favorites! We clearly have awesome taste! Come and play more of my fave free games!