How to play the game "Bike Game for Girls"?
The boy of your dreams has finally asked you out to dinner in this surprise game for girls, but as usual, you haven't noticed the time and now you're running late! What's worse, you've also forgotten to do your makeup! Well… it's probably not the best idea, but thanks to this bike game for girls you can paint your nails, pluck your eyebrows and apply all your favorite girly make up products while you're riding your motor bike across the city to the restaurant! Read more
This free motorbike game would be far too easy if you could just zoom through the streets at 100mph while doing your makeup and get to your date on time… but as well as applying your make up, you'll also have to keep an eye out for the police who are on duty in the city center! As soon as you seen the police icon flashing, stop what you're doing by clicking the cross on the top right of the little window. Thanks to this girls' bike game and other racing games for girls on the site you can become a world-class driver in no time at all: good luck and don't forget, safety first!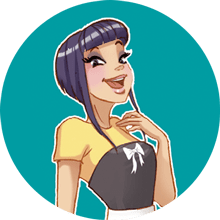 Bike Game for Girls is one of my favorites! We clearly have awesome taste! Come and play more of my fave free games!