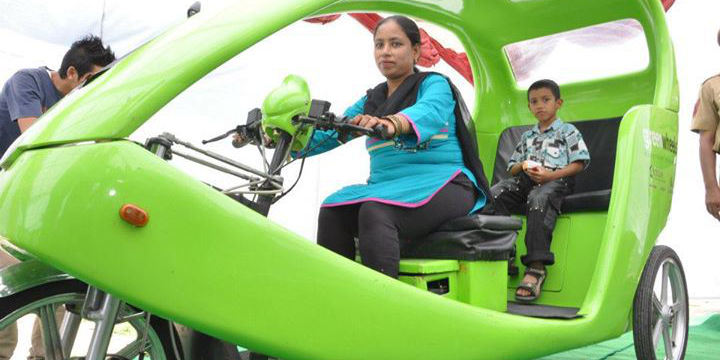 New Delhi, in India, is home to 17 million people, most of whom live in slums. Most of those people get around in bicycle rickshaws. 'What's so exciting about that?', we hear you ask.
Well, Avani Singh, 17, got her hands on a bright green, solar-powered rickshaw and asked women of New Delhi to drive them like little people-peddling peas.

Avani confirms that age is just a number : "I don't think there's a right age for anything. Just take things as they come."
The company Avani had founded was called Ummeed (it means 'hope' in Hindi, fact fans), and from then on it exploded like a big, green, eco-friendly volcano. Local women were queueing for miles to sign up to work for Avani (maybe a slight exaggeration, but they were definitely super keen).
But it doesn't stop there, oh no!
From her very first female rickshaw driver, 33 year old mum-of-two Kohinoor, Avani has now trained several women to be taxi drivers too, because let's face it, rickshaws in the rainy season are very wet, not weather proof and no fun at all.
Avani on the importance of empowerment:
"[The women's] self-confidence and drive is incredible. These girls are often married before they leave their homes; lots of them get married as young as thirteen. With Ummeed they can realize their potential and do something amazing!"

Avani's also involved in local soccer teams and teaching her volunteers English. And when recent heavy rains in New Delhi caused the river Yamuna to overflow, who was on the case? Avani was on the case! All round do-gooder and nice gal, Avani set up shelters and provided supplies to those affected.
We're green with envy...
Avani's work offers Delhi women work, self-confidence and respect from powering around in their solar-powered pea-mobiles, and we reckon that's pretty amazing. Plus we got to make the hilarious 'wheely good' pun in the title of this article. Avani, we salute you!