How to play the game "Underwater Mission Game"?
Clive has a problem. He was sailing happily on his rowing boat, when suddenly he realised he had rowed far out into the ocean! He was enjoying so much that he didn't realise how far out he had gone, and his mobile phone has no signal! He did start to row back to the shore, but then there was a great storm, and Clive's rowing boat broke, and sank. Poor Clive! In this free shooting game for girls, you must help save Clive from drowning! Read more
How can you do this? By freeing him from the chains that he's got all tangled in. Your submarine just happened to be passing by underwater, and you spotted that Clive was in trouble! Using your mouse, shoot the chains that are tangled around Clive's feet until he can swim to the surface and breathe again. It's impossible to live without air, and he's not a fish after all! There's a lot of pressure in this free girls' game, are you sure you can handle it?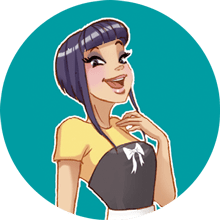 Underwater Mission is one of my favorites! We clearly have awesome taste! Come and play more of my fave free games!