How to play the game "Thanksgiving Food Game"?
What are your parents or relatives cooking for Thanksgiving dinner this year? Yams, pumpkin pie, mashed potatoes? There are tons of different side dishes to choose from, but every traditional Thanksgiving dinner needs one very important ingredient: turkey! In today's girls' games we're going to be learning how to cook a delicious turkey for the holidays. If you've ever helped cook the Thanksgiving meal at home you'll know that cooking a turkey is a big job, but don't worry – in these girls' games, cooking is easy as pie! Read more
In this Thanksgiving cooking game, the turkey has already been plucked and stuffed so now you just need to pop it in the oven and let it cook for a while. Next, serve it on a plate with vegetables, spices, salad… you can even choose how well-done it is! Don't forget to choose a pretty tablecloth so the table looks extra nice for your guests in this Thanksgiving girl game. What are you and your family doing for Thanksgiving this year? Come and tell us all about it in our forums for girls! Have fun with this free Thanksgiving girl game, and happy holidays!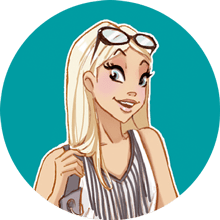 If you enjoyed Thanksgiving Food, you'll love these food games just like me!