How to play the game "Sharing Our Food Game"?
Sharing is caring! It's always much nicer to share food with a friend so that you can enjoy it together, don't you think? In this food game, you need to divide the donuts, puddings, tasty cakes and all the other treats on sale in the cafeteria between two trays. Just pick up each item with the tongs and place it on the tray, then do the same for the next. They both need to contain exactly the same types of food if you want to pass the level. Press the red button when you're done, and remember to keep an eye on the clock! Read more
As you progress through this girls' game, you'll have more and more food to split between your hungry customers. Girls' games like this one aren't difficult, but you'll need to race against the clock to complete your tasks in time. If you love cooking and baking, you'll find lots more fun girls' games with food right here at MyGames4Girls.com. You can decorate pretty cupcakes, prepare delicious pizzas, cook exotic dishes and try out lots of new recipes, all for free!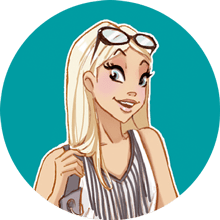 If you enjoyed Sharing Our Food, you'll love these cooking games just like me!