How to play the game "Sewing with Pucca Game"?
Do you know how to sew? It might not seem necessary in this day and age, but it's still very useful! Today we have a sewing game for you to try, and what's more, it stars Pucca! Pucca is a brave 10-year-old ninja who lives with her three uncles in the Goh-Rong Noodle Restaurant. In this game, you can create cross-stitch pictures of this cute cartoon character and her one true love, Garu. To play, simply decide which picture you want to copy, choose the color of thread you need and click on the squares on the grid. There are three levels in this Pucca game, easy, medium and hard. Set yourself a challenge and try them all!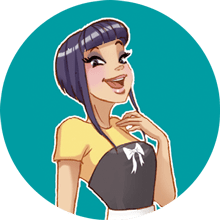 Sewing with Pucca is one of my favorites! We clearly have awesome taste! Come and play more of my fave pucca games!