How to play the game "Robotboy Game"?
Created by the famous scientist Professor Moshimo, Robotboy is one of the world's most advanced robots. Along with his biggest fans, Tommy Turnbull, G-Man and Lola, Robotboy learns to act like a real boy... but the evil Dr. Kamikazi wants to use him to take over the world! Can you help this robot escape the mad scientist in this free girl game? Read more
In this adventure game for girls, Robotboy has been kidnapped by the evil Dr. Kamikazi and taken back to his island. You'll have to race across the island, shoot bad guys, dodge enemy targets and much more if you want to escape! Just use your mouse to help Robotboy fly around the island in this racing game, and watch out for Dr. Kamikazi! Want to play more robot games or adventure games? Keep browsing our girls' games and you're sure to find loads more challenges!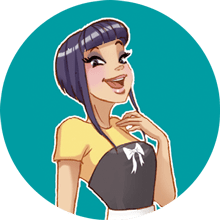 Robotboy is one of my favorites! We clearly have awesome taste! Come and play more of my fave robot games!